Mideast Machinery Movers Services
We are experienced and capable of moving machinery, and just about anything else across the street or across the nation.
Moving / Relocation

Machinery Moving
Equipment Installation
Heavy Hauling
Plant Relocation
Complete Rigging
Engineering
Mechanical
Plumbing

Rigging

Equipment Removal & Disposal
Equipment Installation
Equipment Relocation
Complete Plant Relocations
Heavy Hauling

Custom Fabrication

Belt Conveyors
Dry Bulk Storage Facilities
Dust Collection
Materials Washers
Vibrating Screens
Classifiers
Belt Alignment Systems
Loadout Hoppers

Design Fabrication

Operator Stands
Barrier Guards
Conveyors
Mezzanines & Walkways
Structural Steel Fabrication
Truss Reinforcement
Material Racks
Turn-key Fabrication
& Installation
Millwrighting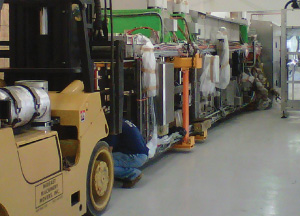 Whether partial or complete disassembly is required to remove a piece of equipment from its location, Mideast Machinery Movers, Inc. can handle the project. Equipment will be set, leveled in place and secured to the floor. We work closely with qualified subcontractors to address your mechanical, electrical, and plumbing requirements.
Storage / Warehousing
With facilities in New Paris, Ohio of 10,000 square feet, we offer storage to meet your short or long-term needs. We can accept delivery, off-load your machine, and store it until site preparations are complete, then reload and deliver the piece for installation.